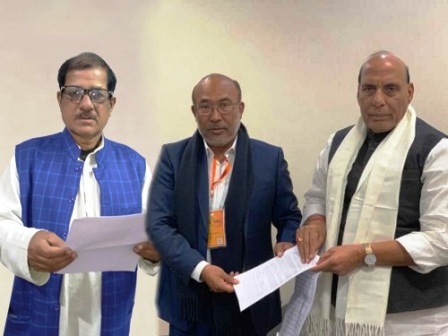 COM. J N DUBEY (CS, UP EAST) AT THE LEFT END WITH SHRI RAJNATH SINGHJI, HOME MINUISTER

On 25-2-2019, Com. Mahatma Pathak, our Circle President of UPE and Com. J N Dubey, Circle Secretary met Shri Raj Nath Singh, Honourable Minister for Home Affairs in Lucknow and submitted a memorandum on our pension revision. The Minister assured necessary action.


Similarly, we have received reports from various places of our comrades meeting the Ministers or MPs and submitting memorandum on the above issue. I am giving a list hereunder. There may be some omissions as I was busy with some other works these days. Concerned comrades are requested to intimate me , if any report is missing the following list............. PSR
WE SHOULD CONTINUE THE WORK. TRY, TRY, TRY AND NOT TO STOP TILL WE WIN .
Latest Events
Latest News