MEETING THE MINISTER
On 22-06-2019, leaders of AIBSNLPWA met Shri Pralhad Joshiji, Honourable Minister for Parliamentary Affairs at his hometown of Hubli in North Karnataka and felicitated him on assuming charge of the important ministry, as successor of his close colleague, late Shri Ananthkumarji. Our leaders sought the help of Shri Joshiji in settling our main demand of Pension Revision. The Honourable minister positively responded and assured his help in the matter.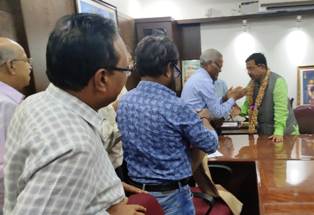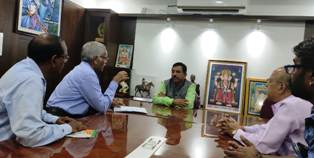 Shri Joshi keenly listening to our GS.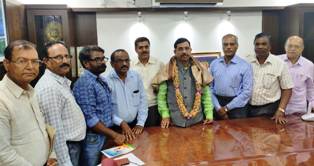 From L to R:

Comrades Shreedhar Pawar (DS Hubli), Radhakrishna (AGS, CHQ), S L Pujar (OS Hubli),

Gandigawada (VP Hubli), Shivananda (VP KTK Circle), Shri Joshiji, P Gangadhara Rao (GS),

Tarikeri (Active member of Hubli) and R Changappa (CS, KTK Circle).

Latest Events
Latest News