KERALA CIRCLE CONFERENCE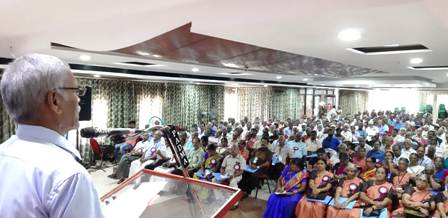 The fifth Kerala Circle Conference was held on 15-10-2019 at Palakkad.The Palakkad SSA Unit is comparatively a smaller district unit of Kerala Circle. However, the unit could host the massive conference in an excellent manner. 425 delegates representing all the 11 SSA units and CEC members attended the conference. Com. P Gangadhara Rao, GS inaugurated the conference at 10 AM. He explained status of various issues and problems.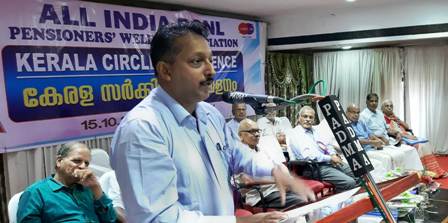 Shri D Manoj, the CCA Kerala was the Chief Guest. He addressed the conference in his inimitable style and shared valuable information with the audience.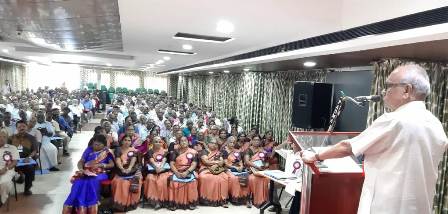 Central trade Union leaders like Shri Vijayan Kunisseri (AITUC), K Sudhakaran (BMS), A Prabhakaran (CITU) and K Appu (INTUC) and Shri G N Hariharan Nair (CS of DoT&BSNL Pensioners Association, Kerala) greeted the conference. Thereafter Com. P S Ramankutty (CHQ President), R N Pada Nair (AGS) and Smt A P Saraswathy (Org. Secy) also addressed the inaugural session. Com. V S Ramachandran (Chairman, Reception Committee) welcomed and Com. K T Ramanarayanan (GS, Rec. Committee) proposed vote of thanks.
In the afternoon, the Delegate Session met. It was addressed by Com. B Arunachalam, veteran leader of Tamilnadu circle who hails from the nearby station, Coimbatore. All district secretaries and few delegates participated in the debate on Report, Account and resolutions. The conference decided to launch a campaign to project the demands for pension revision, grant of funds for BSNLMRS and our views on the present crisis of BSNL in particular and Telecom Industry in general.
Comrades P Narayanan Moosad, T P George and C G Daniel have been unanimously re-elected as Circle President, Circle Secretary and Treasurer respectively.Comrades T Ramachandran, R N Pada Nair and P K Gopala Pillai are patrons.
The conference concluded at 5.30 PM on time. The Palakkad comrades could make very conformable arrangements for conference, CWC meeting, stay and food of all delegates to fullest of their satisfaction. It was a well arranged, disciplined conference in all respects.

to the complete list of office bearers, Kerala please click here: kla-ob.pdf
..................
Latest Events
Latest News