Pension Revision issue - implementation of CAT judgement
As directed by Ahmedabad CWC, CHQ did some ground work regarding implementation of CAT verdict. After knowing that Conference of India mobile Congress is being held at Delhi fom 27th to 29th Oct 2023, myself and Com P Gangadhara Rao have reached New Delhi on 25th to take a chance of meeting both Secretary Telecom & MOC.
*26-10-2023*
We both along with Com Anupam Kaul Dy.GS met
1. Sri Neeraj Mittal, Secretary Telecom.
2. Sri Manish Sinha, Member , Finance
and
3. Sri. Ajay Kumar Sahu , Member, Services .
We requested the Officers to implement the judgement of PB CAT New Delhi without preferring an appeal in High Court.
After going through the operative portion of the Judgement, Secretary Telecom, Commented " It would help you ". But the mindset of other officers has not changed.
However, they have assured to examine the judgement and take a decision.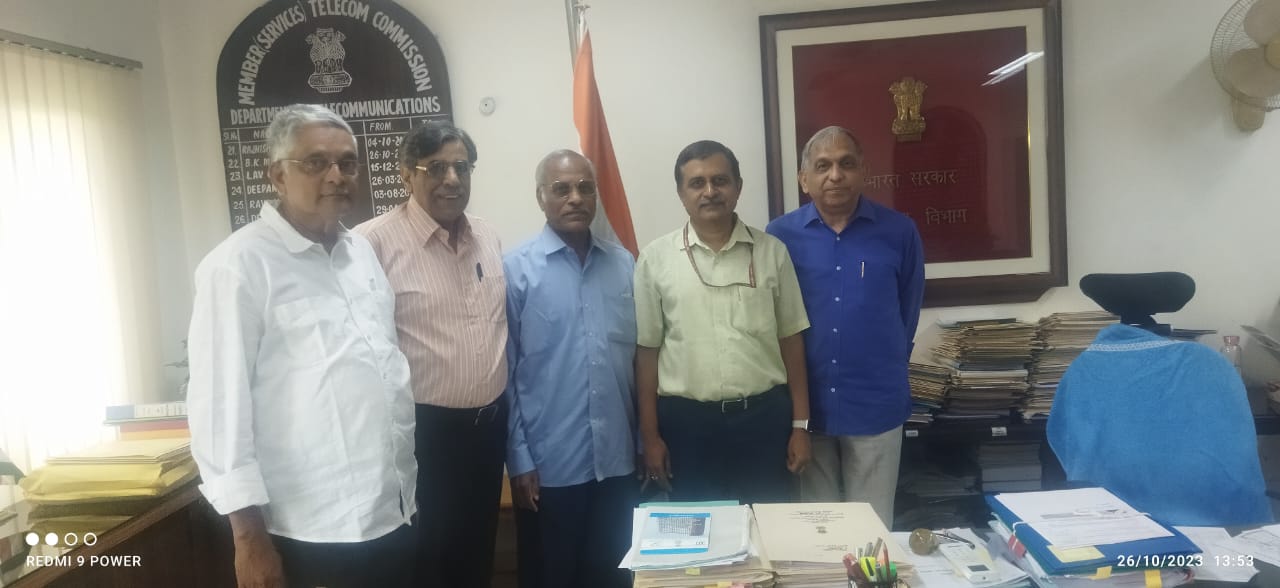 ( L to R ) S/S V Vara Prasad GS, Anupam Kaul Dy GS, P Gangadhara Rao Vice President, Ajay Kumar Sahu Member ( Services), S K Jain , Director General, Telecom.
27-10-2023
Met Shri Ravindra Kumar Director (Pension), DOP&PW and ascertained that his office has received the certified copy of judgement from Establishment Section of DOT for their comments. He told that it is the prerogative of the administrative ministry to take a decision on implementation of CAT order. We requested him to actively involve in implementation of the same as DOP&PW is also a respondent in the petition.
After inauguration of conference of India Mobile Congress by Hon'ble PM, we tried our best to meet MOC but we could not succeed during the day. Late in the evening, we came to know that Minister will be leaving to Bhopal early in the morning of 28th.
Latest Events
Latest News