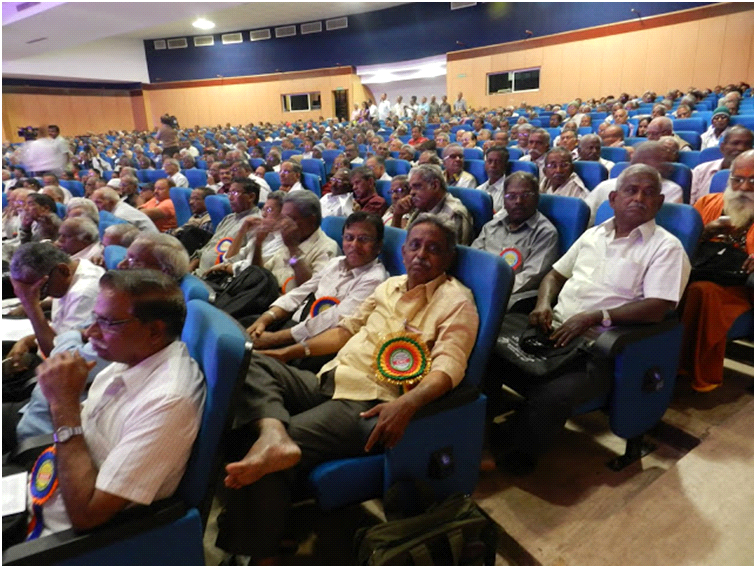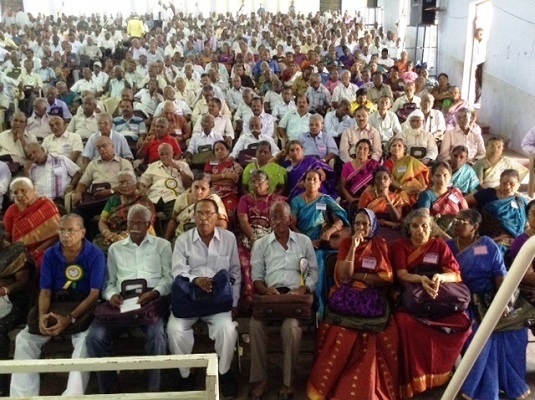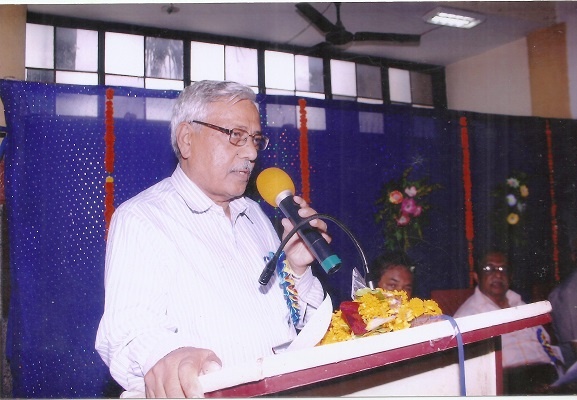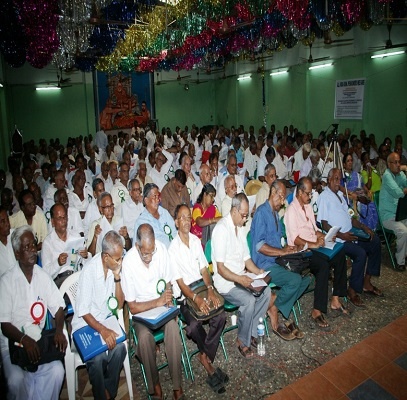 AIBSNLPWA: THE ORGANIZATION OF COMMITTED AND EXPERIENCED
==========================================================
ONLINE REMITTANCE OF CHQ QUOTA, PATRIKA SUBSCRIPTION: BANK DETAILS
Name of recipient: ... AIBSNLPWA (CHQ)
SB A/c No. .... 67100927818, Name of Bank: ... State Bank of Travancore
Name of Branch: ... Chennai Anna Nagar West, IFSC of the Branch: ... SBTR0000530
Immediately after transferring any amount to CHQ, please drop a letter to our Treasurer (Address: Shri T S Vittoban, S-6, SUBHIKSHA, 35/12, Abdulla Street, Choolaimedu, Chennai 600 094.) intimating the break up figures:
=================================================================================================================

PENSIONERS' PATRIKA: AIBSNLPWA publishes a bimonthly home journal (in January, March, May, July, September, and November). The Subscription rates: Life Subscription: Rs 500 per copy for life.Yearly Subscription: Rs 50 per copy for one year.
CALCULATION TABLES:

ARREARS UP TO SEPTEMBER: Pre-2007 Pensioner with old basic pension pre-2007-pensiones-with-old-basic-pension.xls

pre-2007 Pensioners with existing basic pension pre-2007-retirees-...with-present-basic-pension.xlsx
Post-2007 pensioners:arrear-cal.table-for-post-2007.xlsx
02/12
IT IS NOT BLACK MONEY....IT IS NOT UNACCOUNTED MONEY....IT IS OUR, PURE WHITE MONEY
[REPORT APPEARED IN INDIAN EXPRESS ABOUT SITUATION IN DIFFERENT STATES.]

WEST BENGAL
Across Kolkata, most of the ATMs were either closed or had the 'No Cash' sign outside. Many senior citizens were among those standing in long queues outside banks. "My son is a central government employee and hardly has time to withdraw money from the bank or ATM. By the time he returns from office, the cash is over at the ATM," said Nimai Ranjan Bose, 70, a retired school teacher who was waiting outside a private bank on Christopher Road.
JHARKHAND
At the Bank of India branch at Pithoria, nearly 25 km from Ranchi, Trilokinath Dubey, 76, was waiting for his turn to withdraw his pension. The retired SSC grade clerk wanted Rs 13,000. "I came in the morning from my village, Bukru, which is five kilometres away. They said there was a cash problem and asked me to go to another branch nearby. There, they told me to withdraw only Rs 6,000. But I was carrying only one cheque of Rs 13,000. So I went home and have come back again," he said, hoping that he would not have to return on Friday.
KARNATAKA
There were numerous complaints in Bengaluru of banks restricting customers from withdrawing their weekly limit of Rs 24,000. At many banks, customers were told that they could only withdraw Rs 4,000-Rs 10,000. "I gave a cheque for Rs 20,000 but was told I can withdraw only Rs 4,000. There was no cash in the ATM as usual," said an IT sector employee.
Long lines were seen from early morning outside many banks around Bengaluru. To ease the pressure, many firms handed out small fractions of salaries in cash. For many small establishments, pay day is on December 7 or 10, and companies in sectors like the garment industry which employ large numbers of women are hoping the cash crisis will ease by then.
ANDHRA PRADESH & TELANGANA
While many ATMs remained closed, most of the ATMs which were open ran out of cash within hours on Thursday morning, leading to long queues outside banks. But hundreds of people who skipped work to stand in the queues were left stranded as bank officials came out and announced there was no cash.
"I don't know what to do now. I don't have any cash. I don't know how to pay my domestic help. I joined this queue at 9:30 am, taking half-day leave, but I have to return empty-handed," Kiran Ratanpal, a techie waiting outside an HDFC ATM at Hitech City Road.
"My landlord has refused to accept cheque or online transfer to his account. He is demanding cash… I can't skip office everyday to stand in line," said Sai Venkat, HR manager at a pharmaceutical company.
Hours after the banks opened in the morning, scuffles were reported as managers handed out the last 50 tokens. "We have run out of cash. We filled Rs 12 lakh in the ATMs and it is over now. We cannot do anything until we receive more cash which may take a day or two," said an HDFC official at Jubilee Hills.
MAHARASHTRA
The crowd of customers at banks on the first day of the month wasn't as expected, but bankers said they expected larger crowds on Saturday. "As pay day fell on a weekday, most people would be at work. But Saturday may see a surge of people," said an official of HDFC bank in Kandivli East in suburban Mumbai. What may have helped is that many companies also tied up with private banks and installed micro ATMs at their offices.
The banks also saw a surge in customers from the unorganised sector who usually receive their salaries in cash. "My employers did not want to spend the cash they had, and gave me a cheque," said Sumita Prasad, who works as a domestic help.
Many banks across the city ran out of cash. Most ATMs near Nariman Point were shut by mid-afternoon as cash had dried up due to withdrawals in the morning.
PUNJAB & HARYANA
With banks and ATMs running out of cash, people in different districts of Haryana were left cashless on pay day. Some Group C and D government employees, however, were provided Rs 10,000 cash as part of their salaries. In most districts, people stood in long queues outside banks and ATMs. There were many pensioners in the crowd. A few hours after they opened, most banks in Doaba region of Punjab ran out of cash. "We could disburse cash to about 300 customers, but there is a huge queue outside and we have no cash," said a PNB official. Most of the ATMs too were empty before noon.
GUJARAT
The Bank of Baroda (BoB) branch in Kantharia, Bharuch, locked its gates for some time on Thursday afternoon, following an altercation with customers after it ran out of cash. On Wednesday too, police had to intervene in a confrontation between bank officials and customers at the bank's branch in Mohammadpura, Bharuch city.
"Today, we have disbursed Rs 15 lakh to about 150 account holders," said Shrikant, manager of the BoB branch in Kantharia.
In Vadodara and Ahmedabad, several branches ran out of cash despite the careful rationing. Bank managers complained that the cash reserves provided by the RBI for pay day were insufficient to meet the demand.
An official of a nationalised bank in Mandvi area of Vadodara said about 300 customers had queued up within the first working hour on Thursday. "Our cash reserves won't even be enough for 15 per cent of the crowd that we saw this morning. The shortage forced us to restrict withdrawals to Rs 10,000 each, and, in some cases, even Rs 5,000. We are telling customers to opt for cheque transactions and e-payments," he said.
"We are facing an acute cash crunch… the situation will take a few more weeks to ease. We received only 20 per cent of the cash reserves that were needed to meet the withdrawal demand… The withdrawals are strictly capped at a maximum of Rs 10,000 per account," said an SBI official.
"I had to wait for an hour. When I went in, I was told I would get Rs 10,000 against my current account. I need at least Rs 24,000 to pay my employees. Even three weeks later, we are begging for money from our own accounts," said Jignesh Shah, a trader.
MADHYA PRADESH
While the SBI branches in Bhopal saw long queues, most of the other banks did not report any unusual turnout, according to sources in the state-level bankers' committee.
"There were no reports of banks running out of cash," said an SLBC official, adding that customers who withdrew money in the last three weeks have not deposited it.
Some people in M P Nagar, the commercial hub of Bhopal city, said some bank branches did not allow them to withdraw more than Rs 10,000. As for the ATMs, most of them either ran out of cash or dispensed only Rs 2,000 notes.
In rural areas, many disappointed customers had to return empty-handed.
RAJASTHAN
People in some areas like Gandhinagar said they left their homes early in the morning to stand in queues to draw their salaries. Waseem Javed, 25, who works in the telecom sector, said he had taken half-day leave to stand in a queue on Thursday. "This is the sixth ATM I have come to, the others either had long queues or were shut," he said.
Malik Fahad, 24, who delivers goods for online shopping portal Amazon, said he earned only Rs 6,000 in November, while he usually earns about Rs 14,000. "I give about Rs 3,000-4,000 to mother, Rs 1,000 to my sister, and about Rs 2,000 as godown rent. Now I not only have less money, but am also unable to withdraw it," he said.
Chandra Prakash, 33, who runs a small jewellery manufacturing unit, said he needed to pay his workers. "I live in Subhash Chowk area and employ seven persons. I pay most of my workers in cash, as quite a few are illiterate and don't have bank accounts," he said. "But paying their wages now is a problem."
Mohammad Altaf, 28, who runs his own business in Ghatgate, said he was only allowed to withdraw Rs 5,000, though he has to pay 10 employees. "The businessman who gives us work cleared all my pending payments after November 8 in demonetised currency. I had no option but to pay my workers in old currency. But since they couldn't exchange the notes at the banks, they exchanged Rs 1,000 notes for Rs 800. Their wages will be delayed this month," he said.
UTTAR PRADESH
Despite the drop in morning temperature, hundreds of people, young and old, queued up outside ATMs and banks on Thursday. Some cases of scuffle and protests were reported from some cities.
"Even if I stand in ATM queues for almost a week, I won't be able to withdraw enough to pay the salaries of my domestic workers. At the bank, I was asked to take only Rs 8,000 against my demand of Rs 20,000," said Shalini Sharma in Agra.
Despite the preparations for pay day rush, there was chaos at the SBI branch in Tajganj area of Agra, where the bank opened almost an hour after its scheduled time due to lack of cash. In the afternoon, protesters blocked the Agra-Achhnera highway as most banks ran out of cash. Similar protests were also reported from Dhanauli area of Agra.
In Mathura, a 65-year-old man who was standing in the queue was reportedly beaten up by a policeman.
JAMMU & KASHMIR
With the state government disbursing only one-third of its total monthly salary bill of Rs 900-1000 crore to its nearly 4.5 lakh employees, and nationalised banks allowing payment of Rs 10,000 in cash to central government employees and army personnel at their respective establishments, there was no unusual rush at bank branches and ATMs across Jammu on Thursday.
30/11
MEDIA NEWS
State-owned Bharat Sanchar Nigam Ltd. will reduce its workforce by nearly 7% in 2017-18, from the employee-base of 2,09,996 in 2016-17. BSNL expects total employees as on April 30, 2017, to be 1,96,162, the state-driven telco said in response to an application filed under the Right to Information Act, 2005. The workforce phase out is part of employees attaining retirement age, which according to the service provider would eventually help in in increasing operational profit. [Economic Times]



30/11
But, the order is not applicable to Railways, Posts and Telecom.We hope that DoT will endorse the order and direct BSNL to use the new System for processing and paying pension to retiring BSNL employees.
Please click here to see the order bhavishya.docx
27/11
Today, a new District branch of our Association was formed in Dhanbad SSA in Jharkhand Circle in the presence of Com. R N Singh, CS and other leaders. More than 50 Life Members joined today itself. Comrades M Nath, C B Lal and M Majith were elected as President, DS and Treasurer respectively.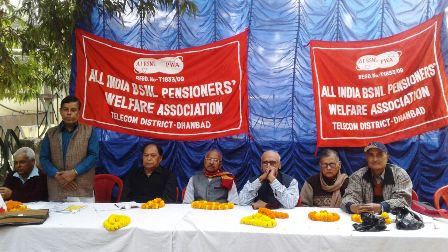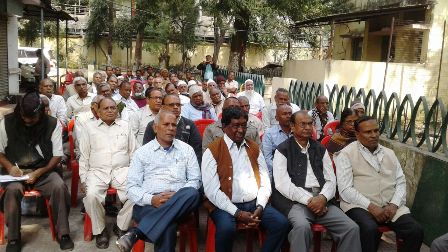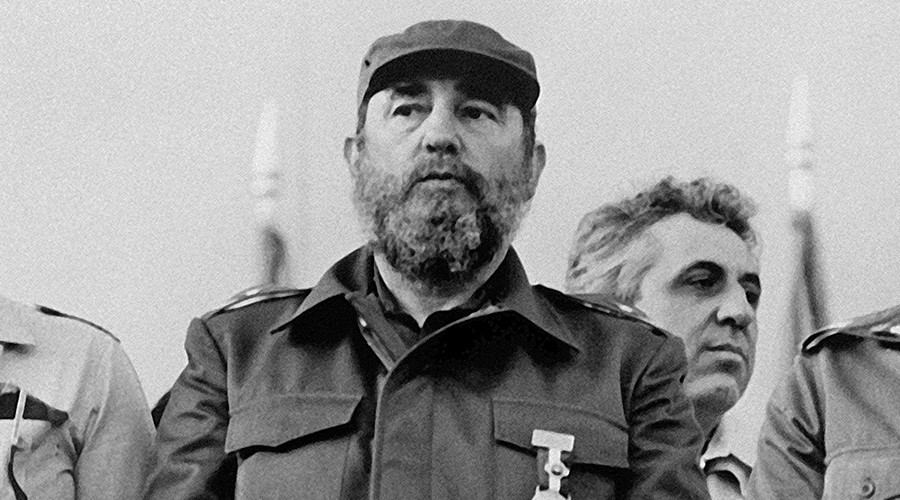 27/11
RED SALUTE TO COM. CASTRO
Com. Fidel Castro is no more. He expired yesterday at the age of 90. About 45 years ago the American government and American media spread a rumour that Castro died due to heart attack.Then, Fidel declared;
"I have a heart of steel." He proved it.He was not an ordinary leader, not an ordinary politician.
Cuba has the highest population of elderly people. 20% of Cubans are above the age of 60 years.It will increase to 30% soon.In America, the elders get free healthcare etc. There are lot of facilities for them.But, they lack one thing: Company of their children and grand children. Elderly people are left alone. Loneliness creates many a problems to them. In most of the Latin American countries the elderly people are not cared for.
In Cuba, the elderly people stay with their children.Fidel Castro told the new generation; "They are not living in your houses.You are living in their Homes". The Cuban Delegate to Barcelona conference of Trade Union International (PR) told:
"In Cuba, the government ensures social security to all. Monthly pension is guaranteed. Good relationship prevails between the workers and pensioners.Ministry of Culture has created a university for senior citizens…." [Page 25 of Pensioners Patrika No 14.]
It is because of Com. Fidel Castro.
WE SALUTE THIS MAN, A LEADER OF DIFFERENCE, A REVOLUTIONARY OF DIFFERENCE …
26/11
CHQ conveys its greetings to all who made the Special Conference in Bangalore on 12th November 2016 a great success. Comrades of Bangalore deserve very special appreciation.
Further Attempts
Soon after the Special Conference, CHQ swiftly moved. Comrades G Natarajan (GS), D Gopalakrishnan (VP), G Babu (VP) and R Chengappa went to New Delhi. Comrades R C Malhotra (AGS), R L Kapoor (Legal Committee Member and President of HQr branch) and Anupam Kaul (Secretary, HQr Branch, New Delhi) joined them. The team had several meetings and discussions in New Delhi on 23rd and 24th November 2016. They met Joint Secretary, Department of Telecom, Member (Finance), Member(Services), DDG (Estt), Director (Estt) as well as Officers in Department of Pension & Pensioners Welfare.
Following issues were taken up:
1. Future Pension Revision with the fitment formula suggested by 7th CPC.
2. Slow process on 78.2% in Circles.
3. Grant of Pension reckoning Extra Increment:
4. Delinking of 33 years of service for grant of full pension to all who retired from BSNL prior to 1-1-2006.
5. Holding Pension Adalat at national level.
Our Impression:
Some of the officers have not yet thought of the issues seriously.They were impressed upon the need to do it soon. We have laid the foundation.On behalf of our Association we gave detailed letters on the above issues to all concerned. CHQ assures consistent vigorous efforts to settle the issues.
Future Pension Revision with CPC fitment benefit:
Generally, the top officers are not averse to the proposal. It is pointed out that the PRCshall not propose any pension revision for the central PSUs, or exclusively for BSNL. DDG raised the doubt whether an anomaly may not arise where the people who retire after 1-1-2017 may be at a disadvantageous position compared to those who retired before that date and got the benefit of CPC report. We told that it would not happen as serving staff may get a pay revision with effect from 1-1-2017. Director (EStt) assured that she would study the issue in depth and initiate suitable action.Joint Secretary also assured that he would examine the matter thoroughly. I hope that the matter will get due attention of the DOT. We demanded DOT endorsement of DOP&PW OM on increased gratuity, Minimum pension etc. The file is pending with finance now and officers assured that it would be expedited.
Work on 78.2% case:
We pointed out that in most of the Circles the work is very slow and sluggish. Member (S) wanted specific cases and next day we gave a list to both Member(S) and Member(F). They assured that necessary action would be taken.
Extra Increment case
We pointed out that the five pensioners who approached the CAT Ernakulam and got favourable judgement are granted the benefit.Similarly placed pensioners of other circles should also be given the benefit as the AIBSNLPWA is the first applicant in the case. Member(S) assured due action.
Full Pension on 10 years of qualifying service:
It was told that a detailed Note is being sent again to DoP&PW seeking a clarification on the matter.But, later,the officer in DoP&PW told us that it is for DoT to decide the case as DoT only issued order for the pension revision and DoP&PW is not issuing orders regarding IDA pensioners.
Pension Adalat:
We pointed out to Member (F) that his predecessor had told us that a decision was taken and the pension Adalat would be held soon at national level.But it did not happen so far. M(F) agreed to examine it.
TUI CONFERENCE
Com. D Gopalakrishnan and myself will be attending the Asia Regional Conference of Trade Union International (Pensioners and Retirees) on 3-12-2016 at Kathmandu, Nepal.
G. NATARAJAN, GS

26-11-2016
23/11
BIJAPUR (KARNATAKA) BRANCH HELD A MEETING ON 22-11-2016.

COM. K G DESHPANDE, CHQ ORG. SECRETARY, ATTENDED THE MEETING AND EXPLAINED VARIOUS ISSUES.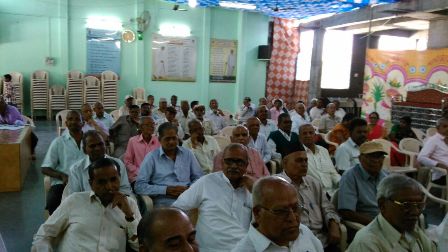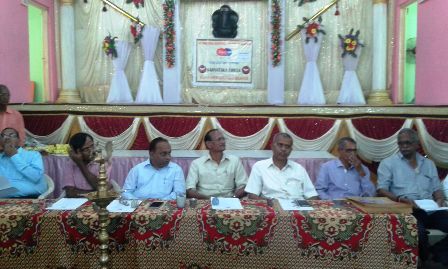 23/11
CHALLAPALLI BRANCH (AP CIRCLE) MEETING HELD ON 22-11-2016.
COM. M R S PRAKASARAO (CIRCLE PRESIDENT) AND COM. N S SARMA, KRISHNA DISTRICT SECRETARY ATTENDED.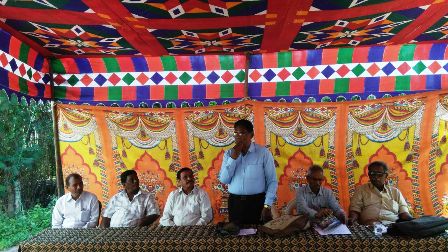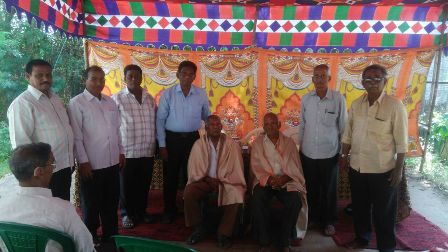 21/11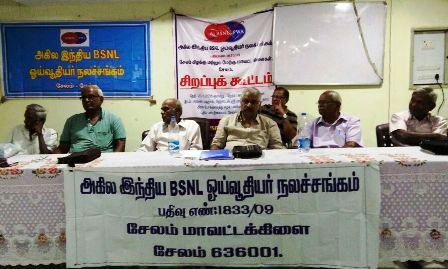 COM. DG AND OTHER LEADERS ON THE DAIS.

A VIEW OF THE AUDIENCE.

Office Bearers / Circle Secretaries