AIBSNLPWA: THE ORGANIZATION OF COMMITTED AND EXPERIENCED
==========================================================
REGISTRATION CERTIFICATE: regn-certificate.pdf
CONSTITUTION:aibsnlpwa-constitution.pdf
REMITTANCES TO CHQ

After the recent merger of five subsidiary banks (including State Bank of Travancore,with whom our CHQ has the Accounts) in SBI, the Bank is levying unnecessary charges and putting unwanted restrictions. More than Rs 25000 can not be sent to a particular account per day. One branch transfers Rs. 25000 to CHQ account one day. Nobody else can transfer amounts on that day.If they transfer we have to pay unnecessary fines.
Use NEFT to transfer funds to CHQ account.First, deposit the amount in the account of the branch.Then using NEFT (National Electronic Fund Transfer system) you can transfer any amount without paying extra charges. Else, you can remit the amounts as DD or pan India Cheque.
DO NOT USE CHQ PAN NUMBER
Some Circle Units have opened bank account giving CHQ PAN. Now, the Tax is deducted for the total amount taking together all the deposits made by CHQ and Circles with the same PAN.We are made to pay huge amounts as Income Tax.So, Circle Units are requested to obtain separate PAN. It is urgent.
ONLINE REMITTANCE OF CHQ QUOTA, PATRIKA SUBSCRIPTION: BANK DETAILS
Name of recipient: AIBSNLPWA (CHQ),---------- SB A/c No 67100927818--------- Name of Bank: ... State Bank of India
Name of Branch: Chennai Anna Nagar West Extn, ------------------------ IFSC of the Branch: SBIN0070530.

Immediately after transferring any amount to CHQ, please drop a letter to our Treasurer (Address: Shri T S Vittoban, S-6, SUBHIKSHA, 35/12, Abdulla Street, Choolaimedu, Chennai 600 094.) intimating the break up figures:

Arrears Calculation Table:arrears-upto-january-2018.xlsx
IDA RATES from Oct 2000: ida-2000-2018.xlsx
=================================================================================================================

12/12
PENSIONERS' DAY: 2018
On 17.12.1982, the Supreme Court of India pronounced its landmark judgement in D S Nakara vs. GOI case. A Bench of SCI headed by the then Chief Justice Y V Chandrachud, J.D A Desai, J. O Chinnappa Reddy, J. V D Tulzapurkar and J. Bahrul Islam gave the classic judgement which is relevant even today. The judgement tells a lot beyond the particular issue,because Late Shri H D Shourie raised many basic issues concerning pension in their Affidavit.The Judgement said:
1) Pension is neither a bounty nor a grace
2) Pension is not an ex gratia payment
3) Pension is a social welfare measure
4) It creates a vested right subject to 1972 rules which is statutory in character
5) A pension scheme must enable the pensioner live from want and with decency and self respect…
EFFECT OF THE CASE:
a) Till then there was no pension revision in central services. From 1986 onwards the pension revision came into effect.
b) While Sri Rajiv Gandhi was the prime minister (1984-89) a new Ministry of Personnel was created to take care of pensioners.
c) A new Department of Pension and Pensioners' Welfare was created
d) Standing Committing of Voluntary Agencies was introduced to discuss the pension related issues of central service staff. Now SCOVA is not effective.
e) Pension Adalat was introduced.
f) Administrative Tribunals were started to quickly hear and dispose the cases of central govt employees and pensioners, though it failed in recent time.
g) Fifth CPC gave 'complete parity' and 'modified parity' in pension fixation.
h) Sixth CPC and Seventh CPC also granted parity to the old pensioners.
Let us remember these while observing Pensioners Day on 17-12-2018. Let us pay our homage to late Shri D S Nakara (some people write as Nakra, which is not correct) and late Shri H D Shourie and also to the eminent Judges.
….. PSR
10/12
Belgaum, Hublid-Dharwad and Raichur branches of our association in Karnataka accorded very affectionate reception to Com. Gangadhara Rao (GS) and to Com. Radhakrishna (AGS) last week. Com. R Changappa, CS KTK also attended these meetings.
Few photos: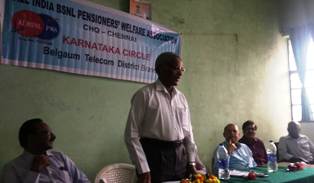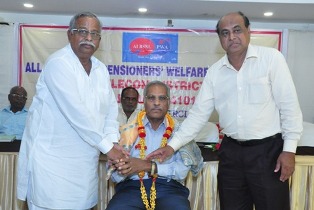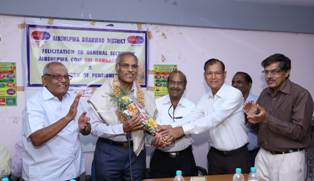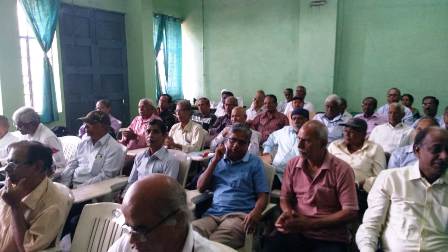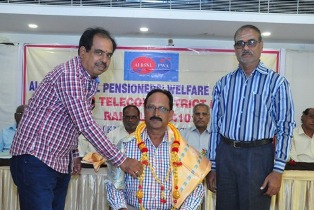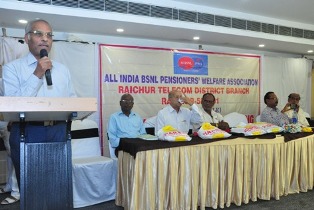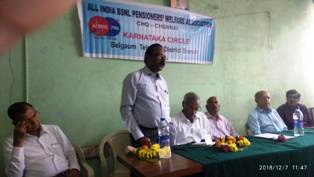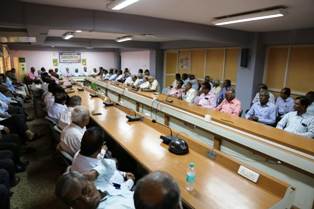 10/12
It is quite heartening to note that Chandigarh SSA Unit in Punjab has added 141 life members.
Congratulations to Chandigarh comrades,
Congratulations to Punjab circle comrades.
06/12
OUR HYDERABAD DISTRICT SECRETARY INFORMS THAT THE DISTRICT UNIT HAS CROSSED LIFE MEMBERSHIP OF 1900.
THERE IS NO ANNUAL MEMBERSHIP. 100% LIFE MEMBERSHIP. CONGRATULATIONS TO COMRADES OF HYDERABAD.

04/12
Dept of Telecom issued the official minutes on the talks held between the Minister Shri Manoj Sinha and the AUAB leaders on 3-12-2018. Regarding Pension Revision to BSNL retirees w.e.f 1-1-2017 the Minutes says:
"Minister emphasized that follow up action should be expeditiously taken…"
There is no commitment on the fitment formula or anything related to that. However,
We can confidently say that there is a positive shift in the attitude of Minister and DOT towards our pension revision. This is most welcome.
Pay Revision in BSNL may take some more time. But, before that, the DoT may move the file for pension revision. So, DoT admits that pension revision can be done without Pay Revision. In effect, Pension revision is delinked from Pay revision. This is the victory of pensioners.
I have no doubt that it is the result of mass FAST all over the country on 22-11-2018 and the unity of BSNL/MTNL pensioners and formation of Committee of BSNL/MTNL Pensioners' Associations (CBMPA).
Even if DoT proposes delinking pension revision from pay revision the DoPW has to approve it. Then the proposal has to be approved by other nodal ministries/departments also. Then only the DOT will prepare the cabinet note and submit to the Cabinet. These procedures cannot be avoided. It should happen before Lok Sabha elections are announced.

Elections are in May 2019. Code of Conduct may be imposed in March or April 2019. Code of conduct should not come in our way.
We must continue our efforts to get Pension revision with CPC fitment benefits; not only for BSNL but for the MTNL pensioners also.

We should not criticize anybody for posting their views/understandings in the whatsapp groups. Understanding may differ sometimes. We are all human beings.

We are thankful to AUAB for raising the issue of de-linking of pension revision from Pay Revision.

Same time, we should strengthen our unity and organize further programmes under the banner of the new united forum- CBMPA.

We have placed a new unique demand. It is a new concept; it is a new path. It is not that easy to get something new approved by the authorities.

We have to cross many a hurdles. We have to cross many bridges.

Who started first and who joined later is not an issue. Destination is important.

We want a permanent solution to the problem. Most significant is that the File has started moving. We shall get pension revision. That will be the VICTORY of all BSNL/MTNL pensioners.
............................................................. P S Ramankutty















03/12
On the eve of indefinite strike by BSNL staff and officers from today, there were series of meetings yesterday between All Unions and Associations of BSNL on one side and the BSNL Management as well as Dept of Telecom on the other side. Though the main issue of PAY REVISION could not be clinched, there is a chance of meeting the Minister of State for Communication today. Hence, the AUAB postponed the strike to 10-12-2018.
After the announcement of postponement, the DoT has invited the leaders of AUAB for meeting with Minister today.

30/11

Our Tamil Nadu circle Unit has taken the initiative to help the Gaja cyclone victims and collected more than 6.5 lakhs so far. It is still pouring. We have decided to distribute 2 lungies, 2 towels, 2 sarees, 2 inskirts, 1 mat, 1 mosquito net, 10kg rice, match box, candle, noodles and rusk to 400 families. It may be distributed in Pattukottai exchange (Thanjavur District). The requirements were assessed by Thanjavur District secretary Com Swaminathan. Chennai telephones contributed Rs. One lakh.

CHQ sent a sum of Rs 20,000 as its contribution.

Our leaders Ramarao, Muthiyalu, RV, M.Kannappan, Ratna and Eswaran of Erode are actively involved in arranging the materials. With the help of com Swaminathan and his team, the materials will be distributed positively on 4/12/2018.
30/11
On 29th November 2018, the Madurai branch in Tamilnadu has crossed the Life membership of 1000.
With 800 annual membership,total membership is 1800 now.

Congratulations to Madurai team.

29/11
BHARAT PENSIONERS SAMAJ, ONE OF THE OLDEST FEDERATIONS OF CENTRAL GOVT PENSIONERS IN INDIA IS HOLDING ITS 63rd ANNUAL GENERAL MEETING AT VISAKHAPATNAM TODAY, 29-11-2018.
COM. P GANGADHARA RAO, OUR GENERAL SECRETARY, ADDRESSED THE CONFERENCE. COM. VARAPRASAD AND LEADERS OF VISAKHAPATNAM DISTRICT WERE ALSO PRESENT ON THE OCCASION.
AIBSNLPWA HAS BEEN AFFILIATED WITH BHARAT PENSIONERS SAMAJ.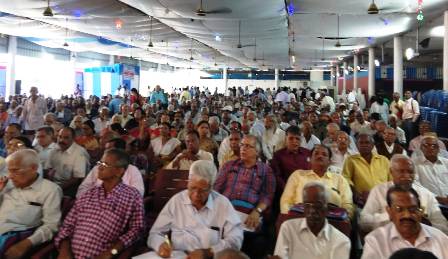 ============================

28/11
On 21-11-2018 in New Delhi, leaders of various organizations of

BSNL and MTNL pensioners

discuss issues and programme of action to achieve our demands.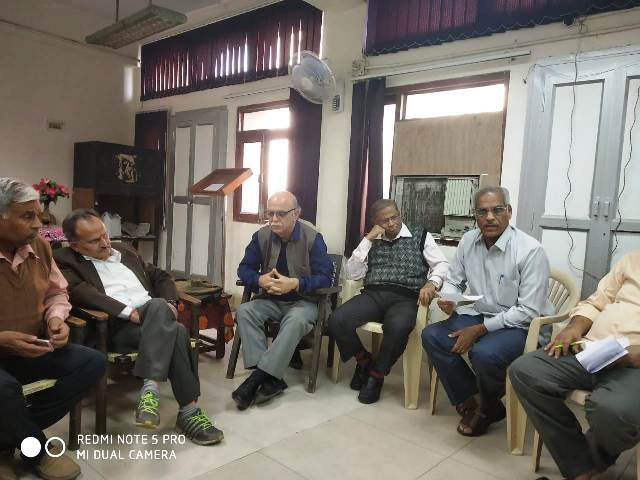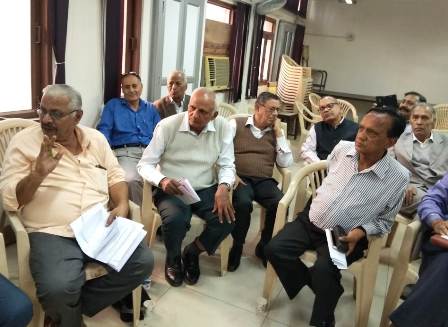 Office Bearers / Circle Secretaries