KERALA CIRCLE CONFERENCE
January 20th, 2017
The 2 Days Kerala Circle Conference commenced today evening at 5 PM. Dr. Sebastian Paul Ex MP and EX MLA, a prominent media personality, inaugurated the conference. Com. P S Ramankutty (CHQ President), Com. A P Saraswathy (CHQ Vice President), Com. G Natarajan (General Secretary), Com. T S Vittoban (CHQ Treasurer), Com. Sampath (Secretary, Chennai Anna Nagar branch), and Com. Vaidyanathan (Secretary, Chennai Villivakkam branch) are attending the conference.
Com. Natarajan, Shri D Manoj (CCA Kerala), Sri. J Sudhakaran Nair (President of Kerala State Electricity Board Pensioners Association), Com. G Madhusoodhanan Nair (Postal Pensioners' Forum), Com. Sadanandan (Kendriya Vidyalaya Pensioners Forum) etc. greeted the conference. Some of the senior DOT pensioners aged above 80, were felicitated by General Secretary on the occasion.
Conference will continue on 21-10-2017 also. Few Photos are given below: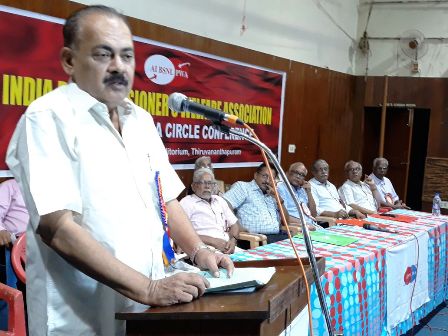 Dr. Sebstian Paul Ex MP inaugurating the Kerala Circle Conference.

Com. Pada Nair (CP), Com. A P Saraswathy (CHQ VP), Shri D Manoj (CCA), Com. Natarajan

Sh. Sudhakaran Nair, P S Ramankutty and G. Madhusoodhanan Nair are seen in the pic.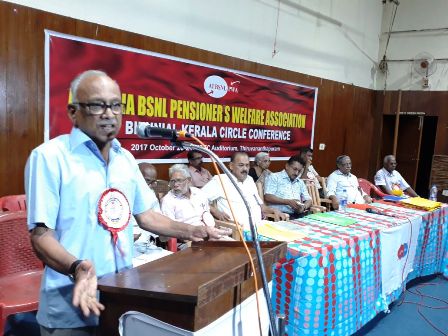 Com. G Natarajan, GS speaks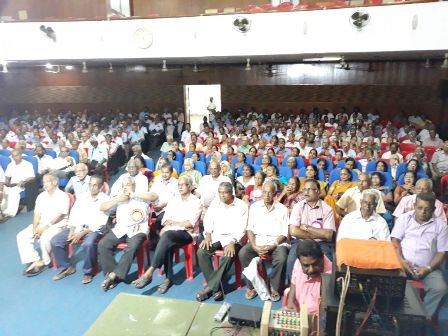 A view of the audience in the inaugural function.

Latest Events
Latest News