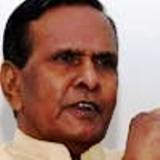 Sh. BENI PRASAD VERMA EXPIRED
Former communication Minister, Shri Beni Prasad Verma, expired at Lucknow on 27-3-2020 at the age of 79 years. I had the opportunity to meet this strange personality three times when he was the MoC. First time, it was in office. Second time was also on my request only. But it was arranged at his residence at 10.30 in the night. After the meeting I had to walk about 45 minutes to my residence at Gole Market. Third time his PA asked me if I could meet the minister at 11 PM in the night! I told that I have to walk both ways. Then Shri Verma himself came over the phone and asked something. I could not follow his Hindi. Then he sent his car and I met him at 11.15 PM. Offering black tea, he was asking about expansion of PCO network. After that discussion he asked some questions about Shree Narayana Guru , the social reformer of Kerala.
On that day I requested him to raise the amount being given to Sanchar Sarathi awardees. Within few days, surprising all, in the function giving away the awards, he announced that the amount is raised to Rupees ONE LAKH, including those who received award on that day. That was Sh. Beni Prasad Vermaji.
He often created controversy making some statements. We convey our condolences on the demise of this former MoC .... PSR
Latest Events
Latest News